COMe ALONG to an event AND HAVE A GREAT TIME & HELP TO RAISE MONEY FOR MARINE RESCUE SHOALHAVEN 
Westgate 11
Westgate 11 was the first rescue vessel in the area owned by the then Royal Volunteer Coastal Patrol (RVCP).  It was a 32 foot wooden Army vessel, built with canvas between the planks (diagonal planked).  It was bought by the RVCP for $300.00 as it had been abandoned on the rocks at Plantation Point Jervis Bay after being stolen from Sydney.  The vessel had a large hole in the hull which made it impossible for the owner to salvage it, so the RVCP received it and repaired it on a slipway at Huskisson.
Westgate 11 spent its operating years working between Greenwell Point, Huskisson and Ulladulla.  It remained in operational service for 5 years, but developed a serious leak within the hull.  It was finally disposed of by fire at Green Point after being stripped of its parts that could be sold.
Information supplied by Alan McGilvray, Life Member, Marine Rescue Shoalhaven.
SA 24
In 1981 a second-hand ex-military vessel was purchased from the Australian Army to replace Westgate 11.  This vessel was known as "SA 24" and after a lot of hard work and considerable expense the newly acquired vessel was launched at the Greenwell Point Bowling Club on 5 September 1981.  The vessel as bought was powered by twin inboard 120hp Mercruiser Sterndrive engines.  SA 24 was owned by the Shoalhaven Marine Rescue Association and crewed by members of the local Royal Volunteer Coastal Patrol.  In mid-1988 two Mercruiser 470 engines were installed in SA 24 at a cost of $14,500.00.
In 1991 the inboard engines were replaced by twin Evinrude Intruder 150hp engines supplied by Maurie Hartnup from Nowra Marine.  Mr Hartnup was quoted as saying that there was a weight saving of around 1,400 pounds, and the top speed of the vessel increased from 32 knots to just over 40 knots.  The Shoalhaven Marine Rescue Association adopted a policy of regularly replacing the outboards, usually at twelve month intervals although this time frame increased as the vessel aged and the cost of replacement engines increased.  The engines used later in its life were generally Mariner of Mercury outboards.
SA 24 remained in service with Shoalhaven Marine Rescue Association until December 2002 when it was retired and sold, having been replaced by TSRV Crookhaven which was delivered in March 2003.
SA 8
In March 1994 the then Shoalhaven Marine Rescue Association announced the purchase of an ex-Royal Australian Navy workboat.  The vessel NWB 1283 ("Beaver") was one of a number of 12 metre workboats used by the R.A.N.  The vessel was purchased with funding assistance provided by the Shoalhaven City Council.  The vessel was renamed "SA-8", and was powered by twin 137hp Caterpillar V8 naturally aspirated V-8 diesel engines.
SA-8 was purchased in 1994.
SA-8 was repainted with a white hull and orange superstructure and was officially christened "A.M. McGilvray" on 30 April 1994 at the West Street slipway at Greenwell Point.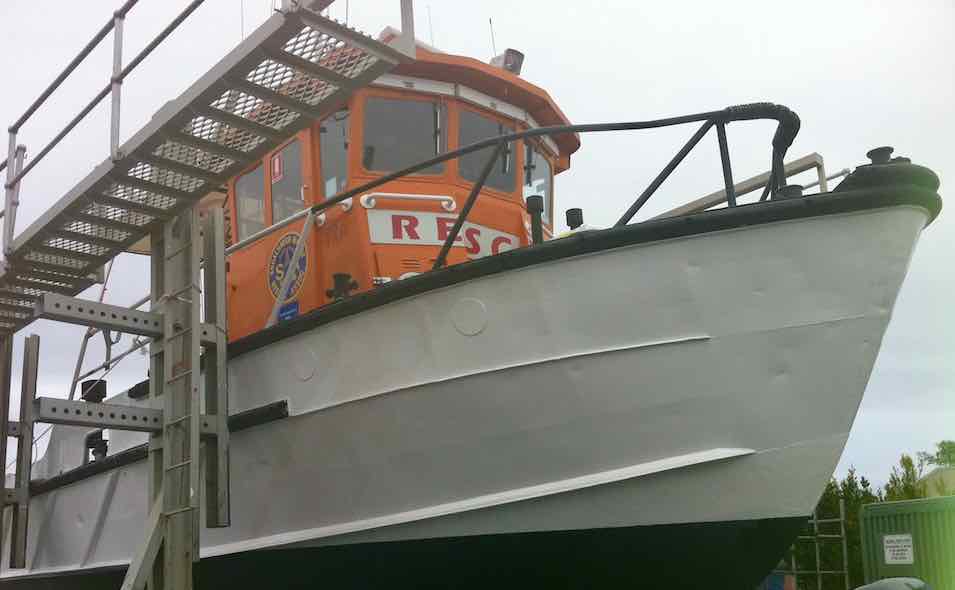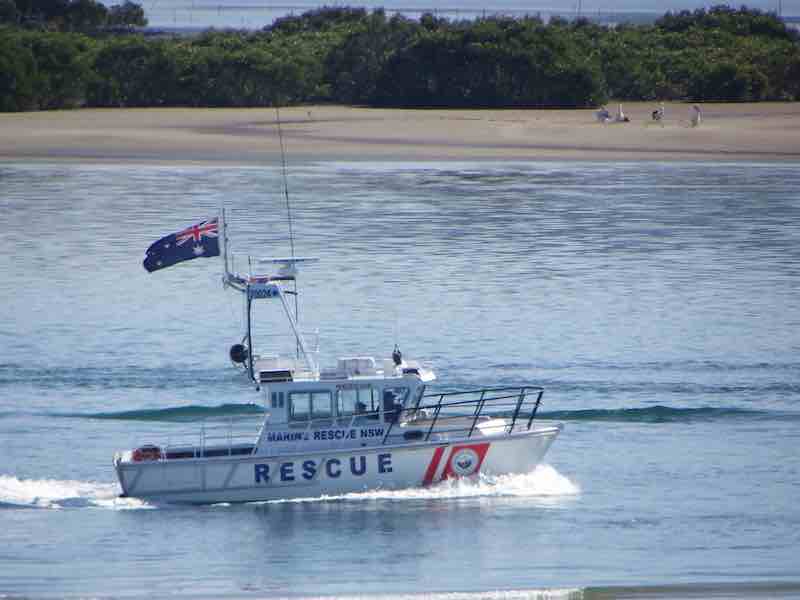 In late 2001 Shoalhaven Marine Rescue Association began investigating the replacement of SA-24 with a new purpose-built vessel.  A sub-committee was formed to find a suitable vessel type and manufacturer and obtain quotes.  Members of the organisation were asked to provide input into the type of vessel they wanted to operate.  A number of manufacturers were approached and eventually, Seatamer Marine in Newcastle was contracted to build the new SA-24. The vessel was designed by Ocean Innovations.
Specifications:
Seatamer Ultimate Series - all-welded aluminium construction
Length: 9.2 metres
Beam: 3.2 metres
Displacement: 7 tonnes
Engines: Twin Cummins B220 6 cylinder turbo-charged diesels 210hp each
Transmissions: ZF hydraulic V-Drive 1.56:1
Fuel: Twin 650-litre tanks & a single 200-litre reserve tank.
Batteries: 4 x 12-volt heavy-duty marine batteries
Water Tank: 100 litre
Sullage: 100 litre
Height: 7.3 metres
Maximum Design Speed: 26 knots at 2600 rpm
Cruising Speed (economic): 17 knots at 2000 rpm
Draught: 0.8 metres
Transducer: location midships  -  starboard side of keel
Survey Capacity: 8 Persons
Radios: 27mHz/VHF marine/HF/CTrak
Radar: Furuno 64 mile
GPS Plotter: Navman
GPS: Furuno GP-30
Sounder: Navman
Fuel dips: Aft deck alloy flush deck fittings
Emergency steering: Flush deck alloy fittings fwd of transom
Tow post: Stored between chart table and helm – shackles under chart table tow post fits in deck between engine covers
In 2002 construction commenced on the new SA-24 at Seatamer Marine's workshops in Newcastle.